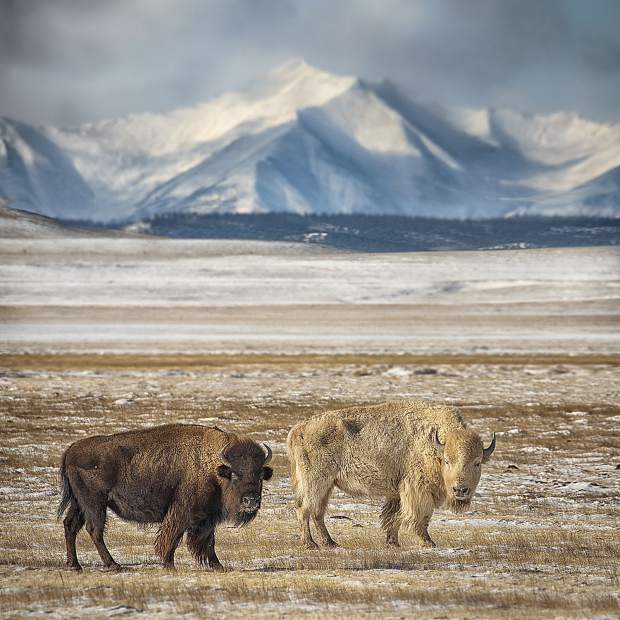 Life on the Summit: Hey, Spike! writes on Graybills and white bison
by Miles F. Porter IV
It was two rare white wildlife species — a red-tailed hawk in the San Luis Valley and a bison in Park County — that brought about this week's column.
Pursuing details about the raptor I spotted near Center when down south recently for another Monte Vista Sandhill Crane Festival preview, it developed into the online meeting with Buena Vista newlyweds and professional photographers Coleen and John Graybill.
Coleen and John are recent transplants from Colorado Springs, but only met in Buena Vista.
John had already moved to Buena Vista after two career retirements from Midas for 29 years, followed up with a stint as an Apple Genius.
With a degree from the Rhode Island School of Photography, he had done portrait and wedding photography for five years, an interest much like his great-grandfather Edward S. Curtis, well-known for his early Native American photographs published in the 20-volume "The North American Indian."
(Historical anecdote: Edward Curtis gave his stamp of approval to Spike!'s great-aunt Gene Stratton-Porter's penning of "The Fire Bird" poem book in 1922.)
Coleen had a 26-year career in the image-capturing business, shooting portraits and weddings in the Springs, while raising her two boys.
Photo postings on Facebook by Coleen of the white bison on the Downare family's Elk Mountain Ranch near Hartsel led to seeing her (and John's) Mountain Spirit Photography offerings and the equally rare white raptor.
Knowing Native American folklore about the spirituality of albino-like creatures piqued Coleen's interest.
"I photographed both the white bison and the leucistic (white) red-tailed hawk at the end of February to mid-March. I have a thing for spirit animals, and especially animal totems not usually seen as white. They bring a deep spiritual meaning with them. I was very excited about the hawk and how unusual the sighting was," she says.
"I have seen up to three white bison at the same time there, but never had my camera with or they were too far out in the field to photograph well," Coleen notes. "We photographed there again just a couple days ago on our way to Colorado Springs. We will be working up a couple of new images this week."
The recent developments for the Graybills has been a whirlwind.
"We have been married just over one year. We met through a mutual photography friend when she found out that I wanted to move to Buena Vista and she knew John had moved here full-time a year prior to that. She thought John could help show me locations to photograph," says Coleen. "Last year was our first year in business as Mountain Spirit Photography and doing only landscape and fine art photography. We initially thought we wanted to spend a ton a time in our national parks photographing those iconic places."
They went to Mt. Rainier twice, Death Valley, Bryce Canyon and Kings Canyon, Sequoia and Yosemite national parks, as well as a trip around Michigan.
Those extensive travels led them back to their new home in Chaffee County, between Park and Saguache-Rio Grande counties.
"We discovered that it was too much traveling for one year, and our own backyard was as beautiful as any of them," she says. "So this year we are concentrating on the Arkansas Valley and surrounding areas. Buena Vista is the top of our list to live, work and photograph. It's why we both ended up here."
Another meshing of their combined interests came with both using Nikon camera systems.
"We are now photographing beautiful sunsets, mountains and wildlife. Though so many people think it's a dream job, I have to remind them that they don't have to get up a 4 a.m. to make it to the sunrise location in time and dress for 10-degree zero windchill," Coleen comments.
Future plans have Coleen and John putting together a Buena Vista calendar for next year and are also considering a coffee table book on the area.
For more info see their website:
Read the article online at Summit Daily
White Bison Spotted in Park County, Colorado